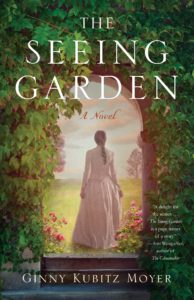 Ginny's novel The Seeing Garden will be published in May 2023.
It's 1910, and Catherine Ogden is aching to live a creative and meaningful life. That's not easy to do when her aunt and uncle—and all of New York society—consider a good marriage to be the pinnacle of feminine achievement. But when Catherine visits Oakview, the Northern California estate of handsome bachelor William Brandt, she thinks that it might be possible to satisfy her family's hopes as well as her own. In that beautiful place, she finds the promise of a new start and the opportunity to use her artistic gifts in designing the garden. But as Catherine is drawn into William's hidden life, as well as the secrets of his estate staff, she discovers that Oakview holds both more opportunity and more risk than she ever imagined. It will take all her courage—and the lessons of some shocking revelations from the past—to choose the path that leads to real freedom.
Full of rich period detail and complex characters, and set against an unforgettable backdrop, The Seeing Garden explores what it takes for a woman to discern the path to her most authentic life.
Praise for The Seeing Garden
"The prose and dialogue flow naturally, with the author spinning phrases that beautifully capture the passion of youth and love . . . a moving story with strong female characters and twists that will satisfy readers who enjoy well-researched history alongside their romantic narratives."
—Kirkus Reviews
"This well-written and captivating novel about social manners and stifling expectations imposed on women shines a light on a piece of California history that has been overlooked. A delight for the senses with Moyer's artistic descriptions of gardens and mansions, The Seeing Garden is a page-turner of a story that is sure to inspire today's women who seek creativity and love."
—Ann Weisgarber, author of The Glovemaker

"A lavish estate on the San Francisco Peninsula is the setting for this elegant historical tale of loss, love, and redemption. Moyer's characters are as vivid and alive as the lush California garden that feeds one young woman's soul and guides her in a struggle between family duty and following her heart's greatest desire. A sweeping coming-of-age story to savor."
—Tammy Pasterick, award-winning author of Beneath the Veil of Smoke and Ash
"Fans of historical fiction, romance, and intelligent women will relish The Seeing Garden. At its core, Ginny Kubitz Moyer's debut novel is a passionate story of yearning and discovery, transporting readers back to early twentieth-century Northern California with vivid descriptions and colorful characters that will enchant readers everywhere!"
—Kristen Harnisch, internationally bestselling author of The Vintner's Daughter series
"At what price freedom? In this finely tuned period novel set in 1910 New York and California, Ginny Kubitz Moyer quietly ramps up tension until its inevitable breaking point, opening the door for protagonist Catherine Ogden to make a pivotal choice: conforming to familial and societal pressures or following her heart. Laced with rich detail and historical accuracy, The Seeing Garden will satisfy readers of early 20th century historical fiction. A great book club read!"
––Ashley E. Sweeney, author of Eliza Waite
"This luscious literary romance has whiffs of a marriage between D. H. Lawrence and Rosamunde Pilcher. The Seeing Garden is a finely drawn portrait of a woman torn between two diametrically opposed worlds. The unforgettable setting is the icing on the cake in this truly captivating novel."
—Laurel Davis Huber, author of The Velveteen Daughter
"Like a flower that takes root in a garden, pushing its stem through gritty soil, and unfolding its glory toward the sun, so does heroine Catherine Ogden. In The Seeing Garden, Moyer's story reminds us that the beauty of life can only be found when our eyes see the clear truths of our inner desires."
– Janis Robinson Daly, author of The Unlocked Path.
The Seeing Garden is available for pre-order here:
The story behind the setting
In the late nineteenth and early twentieth centuries, the San Francisco Peninsula was home to dozens of lavish country estates. Prominent San Franciscans found that a country lifestyle could be theirs in the rolling hills to the south of the city, where the weather was better (more sun, less fog) and where they could build large houses with stables and extensive gardens. Most of these estates are long gone, sold and subdivided to make room for housing developments or office space.
Fortunately, one estate still exists intact: the Filoli Estate in Woodside, California, which is now part of the National Trust for Historic Preservation. Open to the public, it offers an unforgettable look at the vanished world of the great Peninsula estates. The fictional Oakview is a blend of features from Filoli and those found in written and photographic accounts of the other estates.