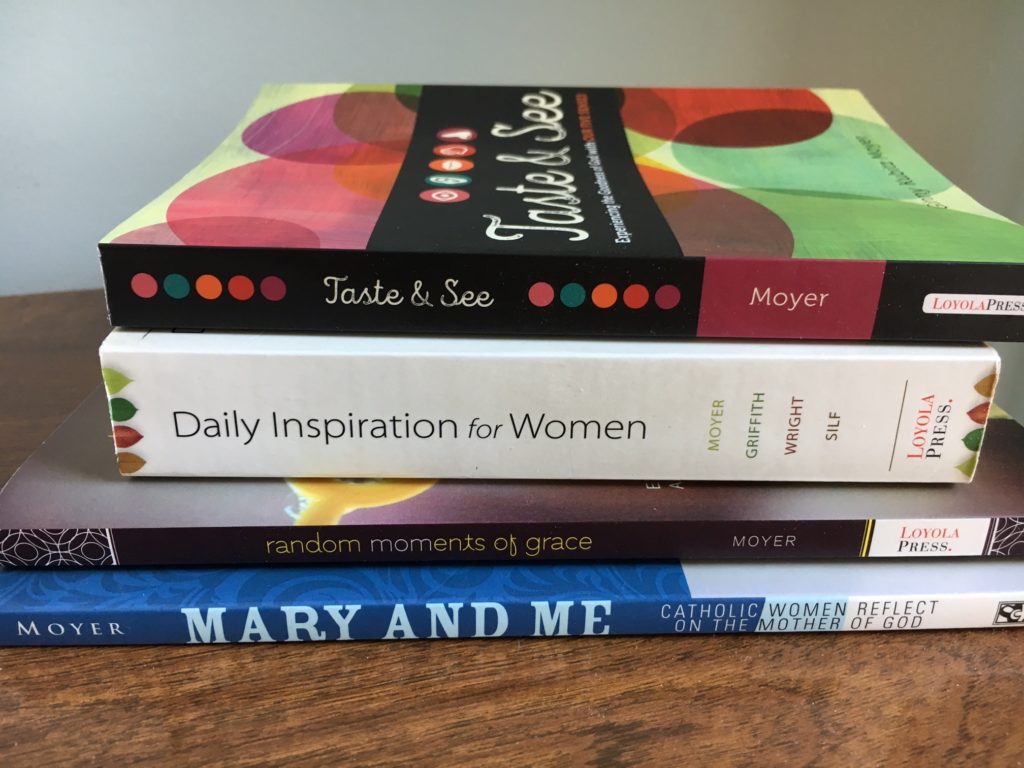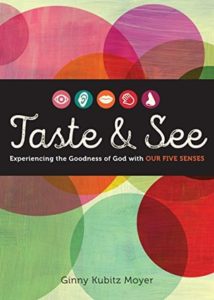 Taste and See: Experiencing the Goodness of God with Our Five Senses (Loyola Press, 2016) shows how the things we see, hear, smell, touch, and taste are evidence of God at work in our lives. With short, down-to-earth essays and focused prayer exercises, the book encourages readers to recognize the senses as five powerful entries for the divine to become known to us.
Through personal anecdotes, vivid yet accessible scriptural and theological references, and a realistically achievable format, talented author Ginny Kubitz Moyer journeys alongside her reader as a spiritual guide but also a friend. Read this book once to see, hear, smell, feel and taste the world around you through new eyes. — Lisa M. Hendey, author of The Grace of Yes
Arguing that "God speaks to us through our senses," the author (a writer, wife and mother) proves her point with delightful examples and a flair for telling them well. Here is a reminder that, regardless of one's feelings at the moment, God is ever present in the mundane and the sublime. — Catholic Press Association
Winner of a 2017 Catholic Press Book Award
Available from: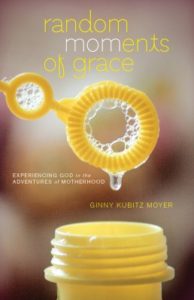 How do you maintain an active spirituality when your life is consumed by the many demands of motherhood? With honesty and humor, the stories of Random MOMents of Grace: Experiencing God in the Adventures of Motherhood (Loyola Press, 2013) show how there is grace to be found even in the messiest, silliest, and least dignified moments of parenthood.
In this, her second book, Moyer explains how she tries to parent with mindfulness, paying attention to the deeper meaning of everyday experiences, from blowing bubbles on the front lawn to letting out an expletive after stepping on a plastic dinosaur on the floor. Moyer is neither overly saccharine nor holier-than-thou, and her heartfelt stories will resonate without inviting self-critical comparison. Her insights are simple yet profound." — Heidi Schlumpf, National Catholic Reporter
Available from: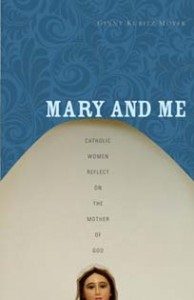 She's the world's most recognizable mother, but how does she speak to women today? Mary and Me: Catholic Women Reflect on the Mother of God (St. Anthony Messenger Press, 2008) shares the stories of forty-six women, from their twenties to their nineties. All of them share their candid thoughts on Mary, reflecting on the often-surprising ways that she speaks to their lives.
Winner of a 2009 Catholic Press Book Award
Because the author has been on her own spiritual journey, her exploration of women's relationships with the Blessed Virgin Mary is a thoughtful, even complex piece. Moyer avoids the overtly sentimental discussions that mar some books on Mary. Instead, she offers a down-to-earth exploration of the Virgin Mary that is grounded in women's experiences of her and in their experiences of life, with the range of joy and happiness to suffering and sorrow. — Darleen Pryds, Ph.D., Associate Professor of Spirituality, Franciscan School of Theology, Berkeley, California
Available from: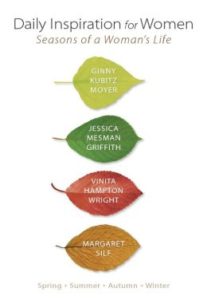 Daily Inspiration for Women (Loyola Press, 2013) is a daily devotional for women of all ages and stages. Arranged by season and written by four women — Ginny Kubitz Moyer (Spring), Jessica Mesman Griffith (Summer), Vinita Hampton Wright (Fall) , and Margaret Silf (Winter) — it offers a short, relevant reflection for every day of the year.
Available from: