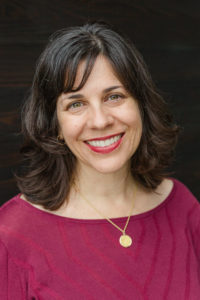 Ginny Kubitz Moyer is a California native with a passion for local history. A graduate of Pomona College and Stanford University, she is an English instructor and an author of both fiction and nonfiction. Her book Taste and See: Experiencing the Goodness of God with Our Five Senses was the winner of a Catholic Press Award, as was her first book Mary and Me: Catholic Women Reflect on the Mother of God. Her articles have appeared in a variety of publications, including Bella Grace and America.
Ginny's love for California and its stories inspired her to write The Seeing Garden, her debut novel, which will be published in May 2023. An avid weekend gardener, she lives in the San Francisco Bay Area with her husband, two sons, and one adorably stubborn rescue dog.
Author headshot by Robin Clark Photography.